Imagine...
.
.
...You land at Heathrow airport in London and British customs confiscate your eyeglasses. "You can have them back in six months," say the officials.
...A Welsh friend of yours, who is deaf, has to leave her hearing aid at home whenever she leaves the country.
...On a tour of Europe, you go skiing in Italy and break your leg. You want to continue to your next destination, Scotland, but you have to change your ticket to fly through London because Edinburgh does not have a "Crutches Reception Centre". Further, you have to check your crutches and can't take them onto the plane with you.
You'd be outraged if this happened to you. Eyeglasses, hearing aids, and crutches are vital mobility aids. No country in the world would pass a law that prevented you from bringing one of these items over its borders - you'd rightly call it discrimination against disabled people.
But...
Britain Discriminates Against Guide Dogs!
Believe it or not, in Britain...
...guide dogs who arrive at a British airport or port from most countries in the world cannot enter - customs officials will send them to a quarantine kennel for six months.
...British blind people must leave their guide dogs at home when they travel to most countries, because they cannot afford to be without their dogs for six months upon return.
...British guide dogs who travel to Europe and a few other countries can return to Britain without quarantine - but they must travel through one of a very few approved points of entry, like Heathrow airport, where Animal Reception Centres exist. Guide dogs who travel from most such countries must travel in a sealed crate, which is very uncomfortable for them and difficult for the blind person.
Why??
The British government claim that these draconian measures are necessary because Britain does not have rabies and admitting even one rabies-infected dog could bring the disease permanently to the island. Thus Britain maintains its quarantine requirement for all domestic animals, including guide dogs.
But...
...guide dogs are always vaccinated against rabies as puppies by their schools and the originating school monitors graduated dogs very carefully to ensure they continue to get booster vaccinations.
...there are effective methods, such as microchips and blood tests, for identifying dogs and verifying that they have been properly vaccinated.
...other rabies-free countries and states, like Japan, Australia, and Hawaii, grant guide dogs an exception to their quarantine laws with no harm to their rabies-free status.
...no guide dog has ever had rabies.
The additional risk of introducing rabies that would be caused by admitting guide dogs to Britain without quarantine is unmeasurably small. Britain's guide dog discrimination laws are unfair to disabled people and their assistance dogs!
Largo's Story
Why do I care, you ask? Because when we emigrated to Britain, my wife and her guide dog, Largo, were separated for six months by this archaic law.
At first we couldn't believe that Largo would really have to leave us. "Surely there must be an exception!", we said - and so did many others, even a clerk at a quarantine kennel! But we came to understand that the British law is absolutely inflexible: no dog of any kind can enter Britain from the USA (or most other countries) without quarantine.
Quarantine cannot be an option for a guide dog, who would certainly lose his training after six months of total inactivity. Thankfully, there is a slightly less inadequate alternative: Largo could stay for six months in France, thus becoming a French dog and qualifying for no-quarantine entry to Britain. The wonderful people at Passports for Pets found Largo a family in France to live with, and we sadly parted from him in Toulouse.
Lisa now had to face not only a traumatic move to a new continent and a new culture, but also six months without Largo. A cane was a totally inadequate substitute - for instance, Lisa's cane will not pull her back from the path of an oncoming truck, as Largo has done many times. Lisa felt safe leaving our home without a human guide only a few times, and for short distances, during that six months - a terrible and inhumane limitation on her mobility.
Further, to keep Largo in training, Lisa had to regularly visit and work with him, so she flew to Toulouse several times during the separation period. Together with the kennel fee we paid to the family in Toulouse, the cost of a microchip, and various license and veterinary fees, this amounted to a huge cost - over 2000 British pounds (3000 US dollars).
Finally, on 9 May 2002, Largo met Lisa in Calais and returned via Eurotunnel, one of the few approved entry routes for dogs.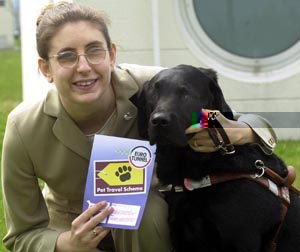 Largo now lives happily with us in Chester, England, but cannot accompany us on many trips, such as visits to our US families - so when she travels, Lisa must once again rely on a cane or a human guide.
Update 9 May 2003: A few routes to the US are now open for dogs to travel on - but the dog must travel in a sealed crate, which is harmful to a guide dog who is used to constant human companionship. Further, this means that the blind person must be without his or her dog for an extended period. Lisa and Largo refuse to travel this way because it is just too difficult for Largo. How would you like to be in a tiny sealed crate for 6-10 hours?!?
Help Us Change The Law!
Please help us change this outrageous British policy. Here are some things you can do:
Write letters and emails. Call politicians. Write to newspapers. If you happen to be in Britain, visit someone official-looking and complain. Even better, tell every British person you meet about this discriminatory policy - shockingly, very few Britons even know that the law exists. Below are some telephone numbers and addresses - both snail-mail and e-mail - that you might find useful.
If you have a web page, post this banner:



and link it to the address http://dsquirrel.tripod.com/largo/index5.html
Visit Passports for Pets. Join their organisation and give them money. Give them LOTS of money. Their years of tireless campaigning are personally responsible for the tiny chink in the law that lets guide dogs (and many other animals) enter Britain from a short list of countries.
Translate this page into a foreign language. Send the translated page to me and I will post it here.
Finally, email me to tell me what you've done to help Largo and thousands of other guide dogs. Doing this will help me keep track of the response to this web page.
Thank you for taking the time to read about British discrimination against guide dogs - now please do something about it!
Useful Addresses and Telephone Numbers
Prime Minister Tony Blair,
10 Downing Street,
London, SW1A 2AA,
United Kingdom.
Email: Tony Blair's form-based email page
Department for Environment, Food and Rural Affairs [DEFRA],
Area 201,
1a Page Street,
London,
SW1P 4PQ,
United Kingdom.
Tel: +44 (0)870 241 1710
Email: pets.helpline@defra.gsi.gov.uk
This is the government agency responsible for enforcing discrimination against guide dogs.
Margaret Beckett,
Secretary of State for the Department of Environment, Food and Rural Affairs,
Nobel House,
17, Smith Square,
London,
SW1P 3JR,
United Kingdom.
Email: parliamentary.secretary@defra.gsi.gov.uk

Ms. Beckett is the minister responsible for DEFRA and thus bears ultimate responsibility for enforcing the British anti-guide-dog policy.
The Times of London
Email: letters@thetimes.co.uk

Britain's leading broadsheet newspaper.
---
This noncommercial website contains graphics obtained free of charge from The Animation Factory.
Return to Squirrel's home page.